Are you tired of reapplying your makeup every morning?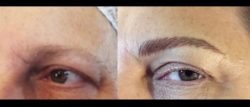 Permanent makeup can take the hassle out of your morning routine. Save time and money by getting your makeup essentials permanently applied. Permanent makeup can enhance your natural features and eliminate the need to buy expensive products. Kim Sternad is a licensed medical aesthetician and certified permanent makeup specialists offer services at our Annapolis Plastic Surgery Center.
Kim provides personalized permanent makeup consultations. Your consultation will include one-on-one time with Kim to review your goals and vision for your results. Kim will outline your treatment options that will provide your ideal results. Kim will provide patients with a comprehensive overview of the procedure, design elements, and color selection so that you are able to make an informed and confident decision.
Permanent Pigment FAQ
Is the permanent makeup treatment painful?
Kim utilizes a two-step topical anesthetic numbing technique so patients feel little to no discomfort during the application. Kim works with a gentle hand and helps her patients feel comfortable and relaxed.
How does permanent makeup work?
Pigment, made of high-quality ingredients, is injected into the dermal layer of the skin. The pigment will be chosen prior to treatment for optimal results. The pigment will last for some time but may fade over time.
What can I use permanent makeup for?
Permanent makeup can be used to enhance the lips, define the eyes, or fill in the brow. If you have a specific area you would like enhanced, suffer from alopecia or have allergies to traditional makeup options, permanent makeup may be right for you. Permanent makeup can also be used to camouflage scars, or to create a new areola after a breast reconstruction.
For more permanent makeup FAQs click here!
Request a Complimentary Consultation
If you have considered what it would be like to never have to apply makeup again, contact Kim at Annapolis Plastic Surgery. We offer complimentary consultations so you can discuss your goals, concerns, and learn more about the benefits of permanent makeup. Contact our Annapolis, MD office at 410-266-7215 or 410-544-2487 or click here to request your consultation online.