After an extensive evaluation of medical skincare companies, Annapolis Facial Plastic Surgery chose to represent two of the leading skin care brands: Obagi and SkinMedica.
Annapolis facial plastic surgeon, Dr. Bryan Ambro is joined by licensed aesthetician, Brittney Harry. Together, they have a considerable amount of experience in skincare and anti-aging treatments. Obagi and SkinMedica products are professional grade and physician approved ensuring their safety, effectiveness and quality of ingredients. You can feel confident that the correct treatment plan will be recommended based on your skin type and goals.
About Obagi® Skincare Products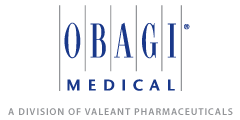 Founded in 1988, Obagi® is a medical skincare line that offers a range of products for problematic skin. Dr. Ambro offers a full line of Obagi products that can be used to minimize the appearance of premature skin aging, skin damage, hyperpigmentation, acne and sun damage. Dr. Ambro or Brittney may recommend an Obagi skincare regimen prior to your laser resurfacing, BBL procedure or chemical peel to prepare your skin for treatment. Obagi products may also be recommended following your procedure to care for skin and help maintain your results.
Obagi Products
Nu-Derm System
Obagi360 System
ReGenica Rejuvenation Products
Blue Peels
Obagi Facial
About SkinMedica Skincare Products

SkinMedica® products use scientifically proven ingredients, like growth factors, antioxidants and retinoids, to enhance the natural appearance of your skin by helping to prevent free radical damage. SkinMedica products begin working the moment you apply them. They are excellent primers for aesthetic skin treatments, effective for caring for skin post-op and can be included as part of your daily skincare regimen to ensure your skin stays supple and smooth.
SkinMedica Products
SkinMedica TNS® Essential Serum & other TNS products
Lytera® Brightening System
SkinMedica® Retinols
SkinMedica Peels: Illuminize, Vitalize, Rejuvenize