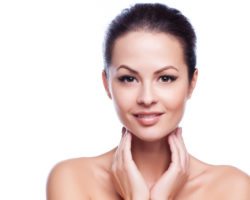 If acne, aging, or too much time in the sun has left you with unwanted scars, wrinkles or lines, laser skin resurfacing may help your skin look healthier and younger. Laser skin resurfacing is a non-invasive, comfortable, rejuvenating treatment that improves the look of your skin while being safe, effective, and convenient.
Laser skin resurfacing can treat a wide range of facial concerns. This procedure can improve the tone and texture of skin, reduce fine lines and wrinkles, minimize age spots, tighten skin, improve the appearance of scars and remove dilated blood vessels.
One session with our providers will typically last thirty minutes and multiple sessions may be needed to achieve your desired result. Our elite doctors will use beams of light to remove unwanted, damaged skin. New technologies allow for a precise treatment that stimulates growth of collagen fibers. As treated areas begin to heel, the new skin is smoother and firmer.
Annapolis Plastic Surgery offers different types of laser skin resurfacing. MicroLaser Peel is one option that uses light energy to remove layers of skin. ProFractional Therapy is another laser skin resurfacing option that can be used on both the face and body. This treatment activates a healing response that gives excellent results with minimal downtime. Contour Tunable Resurfacing Laser is another option that allows for precise treatment that meets your exact needs with minimal downtime.
Drs. Ambro and Chappell at Annapolis Plastic Surgery are highly educated and trained. They offer their patients the most advanced laser technology to deliver safe, fast, and comfortable results. Depending on your needs and budget, our doctors may recommend a combination of treatments. Ultimately, the goal of laser skin resurfacing is to boost your confidence while nourishing your skin. Schedule your appointment today to learn more about our laser skin resurfacing treatments.