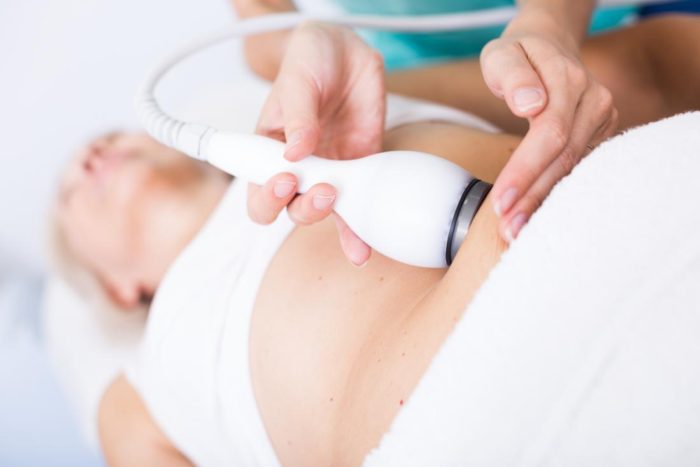 CoolSculpting— scientifically known as cryolipolysis — is a highly personalized treatment that nonsurgically helps freeze away fat cells. The treatment is quite simple; an applicator is applied to the area you would like to target, and suction is applied. The applicator then applies carefully regulated cooling plates to bring the fat cells in the target area down to a temperature at which they have irreparable damage. The treatment is FDA-approved, and the entire process takes about 35 minutes for most areas. After discussing your treatment plan with your board-certified doctor, you will begin with your first session of CoolSculpting in your doctor's office.
What to Expect:
Getting Prepped– Your provider will clean your treatment area and apply a clear gel pad. This acts as a barrier between the cooling panels and your skin.
Getting Started– The applicator will then be applied to your targeted area after prep. It will start with a slight sucking sensation that may intensify during the procedure. Most sensations subside within minutes as the treatment area becomes cooled and.
Relax– During the treatment you are encouraged to sit back and relax as the treatment works. You may read a book, answer emails, or chat with a friend. After the cooling part of the treatment is finished, your provider will lightly massage the area to break up treated fat cells and enhance the results.
Following the Procedure – There is no downtime after the treatment and most people are approved to resume their day-to-day activities immediately after. In rare cases, some minor redness or soreness may occur in the area treated, but all minor side effects typically subside within a few days. Expect some numbness, but that will resolve in a few weeks.
CoolSculpting targets a specific area of the body, so further treatment is usually only necessary if you would like to target a new area although if there is enough fat in an area a second treatment may be recommended. Though CoolSculpting does help to reduce fat in specific areas of the body, it does not treat obesity and should not replace a healthy lifestyle. Continuing to eat a healthy diet and exercise regularly is crucial to maintaining the results of your treatment.
Schedule a free consultation today at Annapolis Plastic Surgery to learn more about this non-invasive procedure and to find out if you are a good candidate.