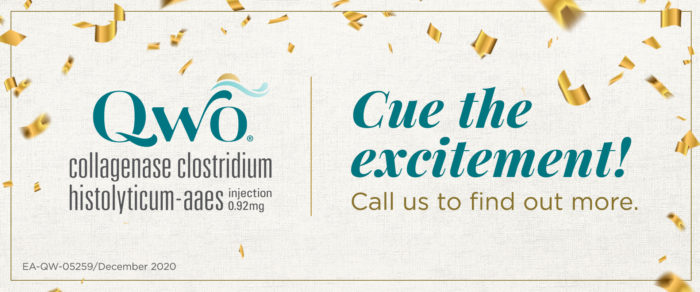 If you've had a hard time trying to get rid of stubborn cellulite, the perfect solution is now offered at Annapolis Plastic Surgery. Our practice is excited to introduce Qwo, the first FDA-approved treatment for cellulite.
What is QWO?
Qwo is an injection procedure that helps to smooth out the skin on your buttocks. The buttocks is the only area where this injection can be administered. Qwo must be prescribed by a licensed professional.
How Qwo Works
Qwo targets the cellulite directly, helping to remodel collagen and smooth out the skin. The syringes contain enzymes that eat away at the collagen fibers that connect the skin and muscle. This creates a smoother look and feel. It's important to note that this procedure does not target sagging skin or laxity, strictly cellulite.
Qwo Treatment
When starting your journey with Qwo here at Annapolis Plastic Surgery, our practicioner Caroline Simm will examine you during a consultation to see how many rounds of treatment you will need. Some patients can get up to 12 injections, depending on the severity of their cellulite. If you are undergoing Qwo treatments, you will receive injections three separate times separated by 21 days. Each round of injections typically lasts about ten minutes. The injections are relatively painless, requiring no downtime following the procedure.
After the Procedure
After receiving Qwo, patients can get back to their routine immediately after the procedure is done. Bruising is a common side effect at the injection sites.
It can take about 28 days or more to notice results, which may be permanent.
Break the status quo, try Qwo! Call Annapolis Plastic Surgery to schedule a consultation today with Caroline Simm, CRNP.