A neck lift can be performed with or without a facelift. Dr. Bryan Ambro offers this out-patient procedure at Annapolis Plastic Surgery. Neck lifts are performed under light "twilight" anesthesia at our private surgical center in the Sajak Pavilion at Anne Arundel Medical Center.
There are several types of neck lift procedures that Dr. Ambro offers to remove excess neck skin and fat as well as tighten muscle laxity. After a thorough physical examination, an individualized rejuvenation plan is made for each patient.
Neck Lift Before & After
Dr. Ambro performed an isolated neck lift on this gentleman to lift sagging skin around the neck and under the chin. The result is a firmer, younger looking neckline.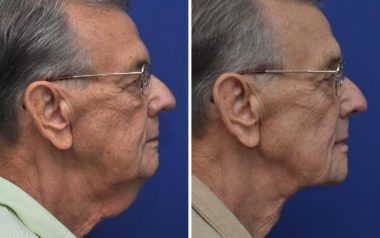 What To Expect During Neck Lift Surgery
Neck lift surgery is performed in an outpatient, private cosmetic surgery center under "twilight" anesthesia. Dr. Ambro will make a small incision under the chin and the skin will be gently raised to reposition and tighten the underlying muscle and connective tissue. Dr. Ambro may perform liposuction if necessary to remove excess fat from the chin and neck.
The results of a neck lift typically last 10 years or more. This result can be maintained and extended by adopting a healthy skin routine that includes sunscreen, quality skin care products. The neck lift may also be combined with laser skin resurfacing or Fotofacials to remove sun spots and refine skin tone.
Why Choose Dr. Ambro in Annapolis for Neck Lift Surgery
Dr. Bryan Ambro is one of the leading facial plastic surgeons in the Annapolis area. He has extensive surgical experience aimed at providing you with natural-looking results. In addition, Dr. Ambro offers a wide range of services which can be tailored to suit your needs and aesthetic goals.