Featured Product: SkinMedica TNS Essential Serum
Published by
Nov 2014
Annapolis Facial Plastic Surgery November Featured Product: SkinMedica TNS Essential Serum
SkinMedica TNS Essential Serum is an unparalleled anti-aging serum. This all-in-one, medical-grade skin care product is dual-chambered to give your skin the best benefits. TNS serum is the first of its kind to combine the benefits of the patented growth factor serum, TNS Recovery Complex®, with potent antioxidants, peptides and other innovative anti-aging ingredients to regenerate your skin.
TNS Serum – How It Works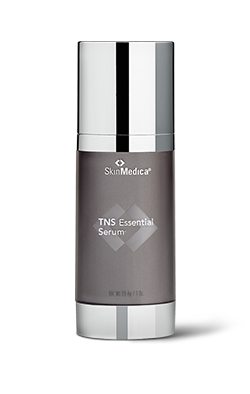 Chamber 1 contains the TNS Recovery Complex. TNS is formulated from naturally occurring growth factors, antioxidants, soluble collagen, cytokines, and matrix proteins. It speaks to the deeper layers of the skin, producing collagen and elastin, and is clinically proven to:
Help reduce the appearance of fine lines and wrinkles
Diminish the appearance of skin discoloration
Enhance skin texture and tone
Chamber 2 contains patented APS Corrective Complex, a potent mixture of antioxidants, peptides and other specialty ingredients. APS Corrective Complex:
Promotes skin's natural rejuvenation process
Prevents free radical damage
Helps smooth and brighten skin
Together, these products work synergistically to transform and rejuvenate your skin for a more youthful appearance.
SkinMedica TNS Serum Before & After Photos
See and feel the difference! Here are some visible results from data on file at SkinMedica: [nggallery id=11]