The winter is a great time for a skin rejuvenation treatment.
Published by
Dec 2014
The sun and other environmental elements can damage skin and exacerbate the fine lines and wrinkles that come naturally with age. While there is a wide range of skin rejuvenation treatments available today to address these concerns, many popular options can raise sun sensitivity during the healing process. This makes the winter months a great time to repair your skin and schedule a skin rejuvenation treatment with us.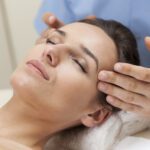 At Annapolis Facial and Plastic Surgery, Dr. Bryan Ambro offers both skin treatments and professional skin care products to help maintain your fresh, radiant skin after a procedure.
Skin Rejuvenation Annapolis
Chemical peels: Brittney, our Medical Esthetician, will choose the right chemical peel for your skin type and condition, revealing a youthful, healthy glow
Microdermabrasion: gently expose new skin without chemicals using exfoliation
Medical grade facials: using prescription strength products we can revitalize the skin and treat some skin conditions such as rosacea at the cellular level for a fresh, healthy look.
Keep your newly refreshed complexion smooth, soft and healthy with the leading aesthetic brands: Obagi and SkinMedica. Dr. Ambro and Brittney will recommend the best products for your skin after your treatment to ensure the best possible results. They will advise you on how best to protect your skin against future damage. Get ready for the return of nice with healthy, glowing skin! Come in for a free consultation and learn more about our services, products and what will best suit your needs, goals and budget.