Featured Product: Lytera Skin Brightening Complex
Published by
Jan 2015
Annapolis Facial Plastic Surgery January Featured Product: SkinMedica Lytera Brightening Complex
The Next Generation in Skin Brightening Lytera Brightening Complex from SkinMedica is a breakthrough in one of the most common skin care concerns: hyperpigmentation. Hyperpigmentation has always been one of the most difficult skin conditions to treat. In the past, hydroquinone has been the go to treatment. A naturally occurring substance, hydroquinone is effective at suppressing pigment-causing cells, but not without problems. Hydroquinone can cause a number of unwanted side effects including increased exposure to UV radiation, sensitivity to sunlight and skin irritation. One of the most reported problems associated with hydroquinone is thickening of the skin that creates a leathery or bumpy texture.
About Hyperpigmentation
Hyperpigmentation – or skin discoloration – is a common skin care problem that includes:
Age spots
Sun spots
Melasma
Discoloration caused by acne and/or inflammation
Skin discoloration caused by hormones
Lytera Skin Brightening Complex
Now, there's an effective, non-prescription alternative. Lytera Skin Brightening Complex is an amazing serum, clinically proven to brighten skin and even skin pigment, without the harsh effects of hydroquinone. In a clinical trial that included 500 patients:
75% reported improvement in evenness of skin tone after 12 weeks
95% reported an overall improvement in skin condition after 12 weeks
Lytera Skin Brightening Complex Before & After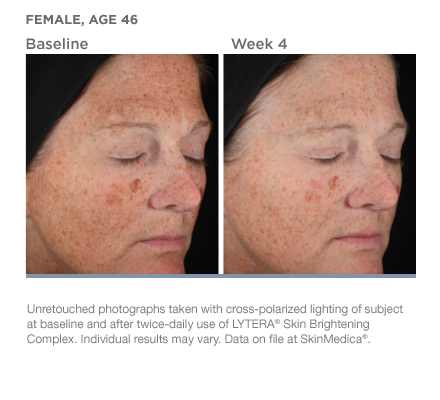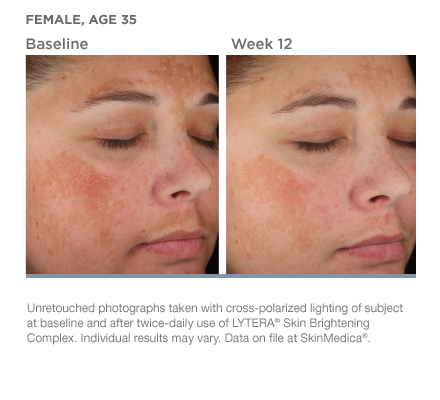 About Lytera Brightening Complex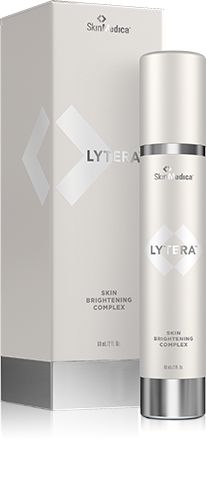 For all skin types
Brightens skin
Improves overall skin condition
Improves evenness of skin
Reduces appearance of skin discolorations
How It Works: Apply Lytera Brightening Complex twice daily – in the morning and evening after cleansing and toning, to the face, neck and/or chest. For best results, combine with SkinMedica Retinol Complex.
Find Out if Lytera Skin Brightening is Right For You!
If you have skin discoloration, contact us for a consultation to find out which treatments and products are right for you. Call [new_patient_phone] or request an appointment online.