February Featured Product: GlyPro Renewal Cream + Retinol Complex
Published by
Feb 2015
Annapolis Facial Plastic Surgery February Featured Product: SkinMedica GlyPro Renewal Cream & Retinol Complex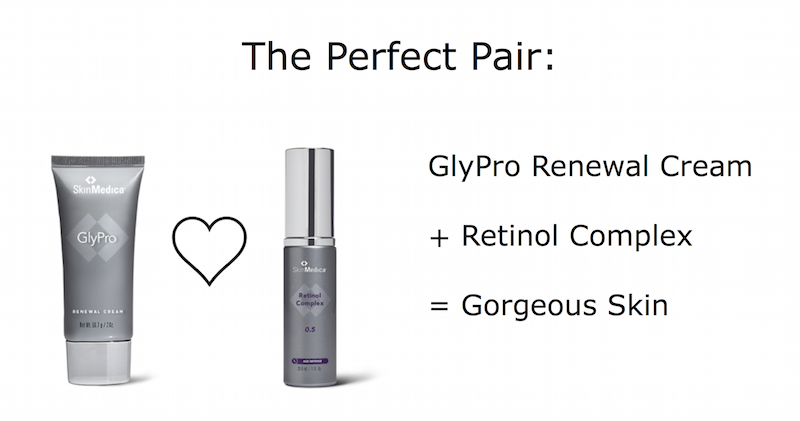 Obtain smoother, younger looking skin with our featured products of the month: Retinol Complex and GlyPro Renewal Cream. Retinol increases cell turnover while Glycolic acid exfoliates dead skin cells. These products were practically made for one another!
NEW GlyPro Renewal Cream
Diminish the visible signs of aging with GlyPro Renewal Cream, one of SkinMedica's newest innovations. This cream contains Vitamin C and E, glycerin and glycolic acid, helping to fight free radicals, replenish skin moisture, and regenerate skin cells. The result? A smooth, velvety complexion. Suitable for all skin types, even acne prone skin. Use each evening after Retinol.
Retinol Complex
This exclusive retinol formula is encapsulated with an antioxidant complex, smoothing skin texture and minimizing irritation. With continued use, you'll see a diminished appearance of fine lines and coarse wrinkles and an enhanced skin tone and texture. Suitable for all skin types. Use after cleansing.
What is Glycolic Acid?
Glycolic acid – is a naturally sourced exfoliator, used to improve the appearance and texture of the skin. Derived from sugar cane, glycolic acid has an excellent ability to penetrate the skin and is one of the gentlest forms of alpha hydroxy acid (AHA). It is a popular agent in many chemical peels and professional skin care products. Glycolic acid removes dull, outer layers of skin to reveal fresher, younger looking skin below. It may also improve skin discoloration, age spots and reduce blackheads and/or acne. Glycolic acid does increase the skin's sensitivity to the sun. Always wear sun protection and limit sun exposure important – especially when using glycolic acid products.
Special Offer!
For the month of February – Receive 25% off when you purchase these featured products together.
Find Out if Skin Medica Products Are Right For You!
Brighten up dull, tired looking skin. Contact us for a consultation to find out which treatments and products are right for you. Call [new_patient_phone] or request an appointment online.