March Featured Product: Uplifting Eye Serum
Published by
Mar 2015
This Spring, It's All About the Eyes
Firm, brighten and smooth lines around the eyes with our featured product of the month: Uplifting Eye Serum from SkinMedica.
About SkinMedica's Uplifting Eye Serum
SkinMedica's Uplifting Eye Serum is a oil-free gel with active plant extracts. When used daily, the non-irritating formula refines and rejuvenates the area around the eye. This fantastic serum also reduces puffiness and brightens dark circles.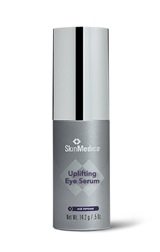 Key Ingredients:
Algae Extract Derived from a wide variety of sea and fresh water plants, this extract hydrates and softens skin while also delivering remineralizing vitamins and antioxidants.
Glycyrrhiza Glabra (Licorice) Root Extract This extract has a skin brightening effect to diminish dark lines and circles around the eyes.
Kojic Acid Derived from mushroom, this ingredient helps to make an overall improvement in the tone and texture of the skin.
Camellia Sinensis (Green Tea) Leaf Extract Green tea extract is a natural antioxidant and rich in polyphenols and alpha lipoic acid. It helps to sooth irritation and reduce swelling. Tannins in the extract also smooth unevenness in the skin's tone and texture.
Other ingredients such as retinol, vitamin E, and hyaluronic acid delivers lightweight moisture to fill lines and give the skin a plumper, more youthful appearance.
Special Offer on Eye Creams
Save 15% off when you purchase this, or any of our other amazing eye creams, this month only! See a real difference in your skin with physician dispensed skin care. Schedule your free consultation with our Aesthetician today – call [new_patient_phone] or request an appointment online.