Give Fat Cells The Cold Shoulder With CoolSculpting
Published by
Oct 2016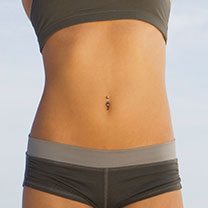 Have you been eating right and exercising regularly and still can not beat that stubborn waistline bulge? Are your belly pouch and love handles refusing to budge? These areas are common problem zones for many women. The stubborn fat that can be deposited here as we age can be difficult to lose, no matter how hard you work. If surgery is too time consuming, invasive or expensive for you, CoolSculpting may be the natural, non-invasive answer you are seeking. With CoolSculpting, there are no hoses, needles, knives or scarring. Dr. Bryan Ambro and Dr. James Chappell of Annapolis Plastic Surgery don't want you to have to choose between suffering with love handles or invasive surgery. They offer the quick and effective CoolSculpting procedure at their convenient Annapolis cosmetic office.
Natural and Safe
Developed by Harvard scientists, CoolSculpting has been FDA cleared and proven safe and effective. By exclusively targeting fat cells, CoolSculpting leaves no scarring or damage, unlike lasers and surgery that can be destructive to your healthy skin cells. Once the CoolSculpting crystallizes the fat cells, they are naturally eliminated from your body. Leaving those once "squishy" areas feeling firmer and trimmer!
Giving Fat The Cold Shoulder
In about one hour Dr. Chappell and Dr. Ambro can have you on your way to achieving your dream results. What may take you years to achieve at the gym, you can have in just a few short months. You may notice immediate results, however, peak results will be seen in a few months as your body naturally disposes of the frozen fat cells. Most patients are able to resume their daily activities immediately after treatment. There are no long recovery times with CoolSculpting, just long lasting results.
Look Great for The Long Term
If you maintain your healthy diet and exercise plan, your CoolSculpting results should last long term. With no invasive surgery, no permanent scarring or uncomfortable side effects you can achieve a flat belly and slimmer sides. Annapolis cosmetic physicians Dr. Ambro and Dr. Chappell can use CoolSculpting to target your specific trouble areas. After a comprehensive cosmetic consultation they will work with you to create the sleek results you are looking for.
Schedule A Consultation
Dr. Ambro and Dr. Chappell are both highly trained and experienced plastic surgeons with the experience and knowledge to bring out the most natural and beautiful you using advanced treatments such as CoolSculpting. Schedule your consultation in our Annapolis office to learn more about how a cosmetic procedure can restore your figure-and your confidence.