Non-Invasive Procedures for Men
Published by
Jul 2020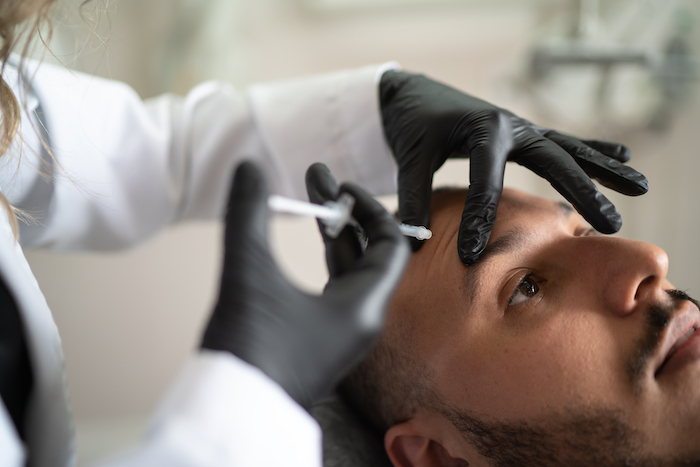 Today, more and more men are becoming increasingly interested in addressing the signs of aging while maintaining a masculine appearance rather than a full body or face procedure. The treatments below are some of the most popular non-invasive methods chosen by men to achieve their desired look with little to no downtime.
CoolSculpting
CoolSculpting is a non-surgical body contouring option that can help to freeze away unwanted pockets of fat. This procedure is completely customizable as it can be used virtually anywhere on the body. Common spots for men to use CoolSculpting are the upper and lower abdominal areas, as well as the hips. Unlike a lot of other procedures, CoolSculpting takes very little time and is pretty simple to fit into your daily life. After your CoolSculpting treatment, you can typically get right back to your busy day. Each treatment lasts 35 to 60 minutes – the same time you might spend at the gym. So, you can easily fit your appointment into a lunch break. Multiple sessions may be needed depending on each individual's personal goals. Fat reduction without the inconvenience of incisions, anesthesia, or extensive downtime, makes CoolSculpting an easy choice for nonsurgical body contouring for men.
Kybella
Kybella is best suited for healthy patients with noticeable submental fullness who don't need or desire extensive surgery. It is an FDA-approved, non-invasive treatment to permanently remove fat from under your chin. A 'double chin' is difficult to eliminate, even with diet and exercise. Kybella effectively eliminates the layers of fat below the chin to create a younger, more fit appearance. With Kybella, double chins can permanently be reduced with just a few in-office treatments.
Botox
At Annapolis Plastic Surgery, our team uses the same safe and effective Botox solution for all of our patients, but the amount and technique used varies between men and women. Men will begin to notice signs of aging on the brow, fine lines from years spent in the sun, loss of volume and sagging skin in the mid-face, and the appearance of jowls around the jaw are typical areas of concern. Male patients also often require more units of Botox to receive comparable results. Botox is a great option for those wanting an overall younger-looking appearance.   Noninvasive cosmetic treatments can offer your ideal results with little downtime at an affordable cost if performed with a trusted team of plastic surgeons, such as those at Annapolis Plastic Surgery. If you are interested in any procedure mentioned above, schedule a consultation to discuss all options available in helping you to attain your goals.