Protecting Your Skin from The Sun – Tips from Annapolis Plastic Surgery
Published by
Sep 2020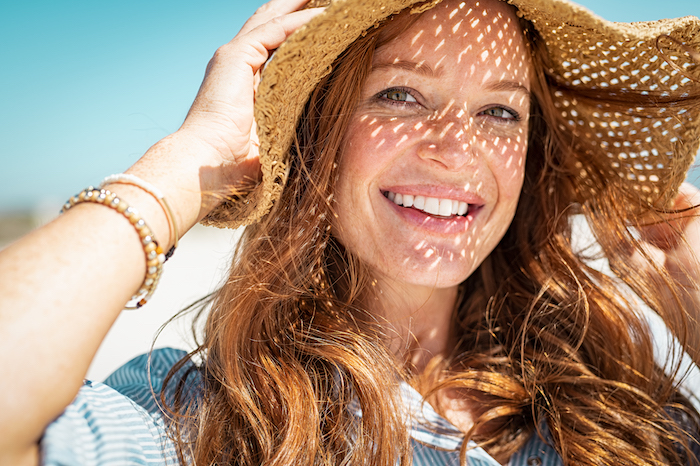 Importance of Sun Protection
Although sunlight is essential in your body's production of Vitamin D, it's essential to know how to protect your skin from the harmful effects of the sun. For starters, exposure to Ultraviolet (UV) radiation is the leading cause of skin cancer. Two types of UV radiation can damage your skin – UVA, and UVB. UVA radiation makes up about 95% of the radiation that reaches our skin and can pass through the glass, causing the aging and wrinkling of skin over time. UVB radiation causes sunburn and is more commonly connected to skin cancer and melanoma, however, both types of radiation are just as likely to cause skin cancer!
How to Avoid Sun Damage
Just because you think your skin looks healthy doesn't necessarily mean it is. The sun's UV rays can damage our skin without us even realizing it. Educating yourself on the harmful effects of the sun and ways to combat these effects is the first step you can take in achieving truly healthy skin. This biggest way to avoid sun damage is wearing sunscreen every day. Add an extra few minutes to your morning skincare routine to apply sunscreen every day, not just when you go to the beach! Apply it 15 minutes before you go outside and use at least SPF 30.
The FDA recommends that the average-sized adult should use at least 1 ounce of sunscreen every 2 hours to evenly cover the body, making sure you don't miss spots such as your ears, nose, lips, neck, hands, tops of feet, hairline, and balding areas. Applying sunscreen correctly is one of the best precautions you can take to avoid sun damage, but there are many more.
You also want to limit your time in the sun during the hours of 10 am-2 pm when the UV rays are the strongest, however, wearing clothing to cover the skin that is most exposed to the sun, such as long sleeves, sunglasses, and hats can help during this time of day.
Popular Treatments for Sun Damage
If you're late in learning how to protect your skin from the sun, Annapolis Plastic Surgery can help. There are many different options available to treat sun damage on the skin and other issues caused by sun exposure.  BBL and Laser Skin Resurfacing has been proven to treat sun damage spots, wrinkles, age spots, uneven skin tone or texture, and acne scars.
At Annapolis Plastic Surgery, we offer a variety of pulsed light and laser types of treatments, including BBL, Halo, ProFractional Therapy™, and TRL Deep Resurfacing, all of which are safe, fast, and comfortable treatments performed at our office.
If you are interested in scheduling a consultation to learn more about the services we offer and how we can help you achieve flawless looking skin, call 410.684.0176 to schedule your consultation.