What You Need to Know About NeoGraft Hair Transplants
Published by
Dec 2020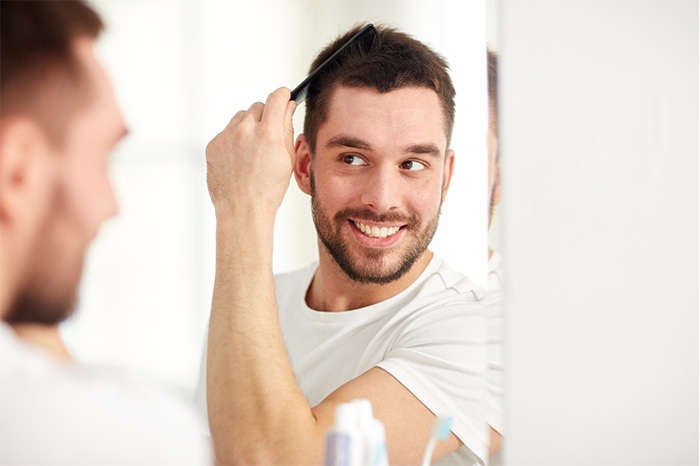 The NeoGraft hair restoration system is an effective solution for hair loss offered at Annapolis Plastic Surgery. Look and feel better with this minimally invasive hair restoration option with quick recovery time, no visible scarring, and natural-looking results – perfect for both men and women.
What is NeoGraft?
This state-of-the-art procedure helps to add thickness and density back to your hairline without many of the downsides of a traditional hair transplant. NeoGraft has revolutionized the FUE (follicular unit extraction) technique, which uses a punch and pressure method to suction and gently extract each hair follicle from the scalp without disturbing the surrounding tissue, nerves, and blood vessels. Most hair follicles contain one to three individual hairs. Once the follicles are extracted from the donor area (usually the back of the head), they are carefully separated and strategically reimplanted into areas of the scalp where hair loss or thinning has occurred. Since this method is able to be controlled through the placement of each hair follicle, it gives a natural-looking appearance to the hairline.
NeoGraft Technologies
NeoGraft is one of the most advanced technologies in the hair transplant industry thanks to the automation of the FUE technique. This automated technique makes for very stable results and is the first and only FDA-cleared FUE harvesting system. Because of the advanced technologies, scarring and recovery time are minimal.
Benefits of NeoGraft
NeoGraft and other FUE hair transplant methods have several key advantages compared to traditional Follicular Unit Transplantation (FUT), or "strip harvesting" hair transplants. This involves surgically removing a strip from the patient's scalp to be used as the "donor site". This can leave a permanent visible linear scar on the back of the head. Utilizing the FUE procedure associated with NeoGraft, surgeons at Annapolis Plastic Surgery have made hair transplantation a smooth ordeal. This newly automated process can harvest individual hair follicles from areas that consist of terminal hair, which are naturally resistant to hair loss. It then implants those grafts at the site of hair loss, where, over time, they will regrow into healthy, fully functioning hair. This process results in no linear scarring, a more comfortable procedure, and a quickened recovery time.
Why NeoGraft?
• High success rate
• Minimally invasive
• Natural-looking
• Causes little-to-no discomfort
• Quick recovery time
• Affordable pricing
When performed by one of the qualified, experienced surgeons at Annapolis Plastic Surgery, a hair restoration treatment using NeoGraft can help restore hair back to your hairline, mid-scalp, or on the crown of your head and turn back the clock on years of hair loss.
Contact us today to learn more about the advantages of NeoGraft and get started on your hair restoration process.